Silk for the making of Anita Matell * FLORÈS flowers are from Lyon in France. Some very beautiful from Italy and Japan.
The linen grew in the meadows of Normandie in northern France.
Vintage coton prints from old manufactures such as Toile de Jouy, Le Manach and Les Indiennes Provençaux adds a colorful touch.
These are natural materials of elegance and sensuality selected according to the needs of the flower-to-be.
Silk
Sericulture is the name of silkworm rearing.
As a matter of fact it has nothing natural about it, the silkworm rearing is an artificial product of humans desire and ingenuity to manufacture beauty. It does not exist wild in nature but only when domesticated.
In the south of France there are still to be found abandonned mulberry trees and ancient Magnaneries were silkworms were raised. These are often beautiful stone houses were the upper floor was reserved for the small family business of raising silkworms.
Women and children cared, feeding the voraciuos worms with mulberry leaves. The precious threads were dyed and woven by highly skilled artisans in the Lyon area.
Lyon is a historical city and still today with a rich heritage concerning Silk.
*
Linen
The very ancient cultural plant Linen, the first clothing fibre to be cultivated. It is woven from the fibres of the flax plant called Linum.
It is a natural and ecological fibre, the plant flax is not demanding neither in water or fertilizer.
Linen is a beautiful and useful gift of nature, first the pretty blue flowers and then the strong and healthy fibre.
*
Printed Cotton
The first printed cottons were inspired by rare, colorful and expensive prints from India reaching France by the port of Marseille. Some prints are still called Les Indiennes or cotonnades provençales. They were so popular that periodically they were prohibited
Manufactures in Provence and in Jouy en Josas – theToile de Jouy, succeeded in manufacturing cotton prints that were available to a larger public and had a great success. Most cotonnades were printed with wooden blocks reproducing flowery motives. These colored prints had often an excellent tenue to light and has kept a fresh charm even when from the 18th century.
The traditional provencal costume shows us how small women were in size yet so grande in taste and in their desire to be pretty.
Anita Matell * FLORÈS has a collection of authentic flowery cotton-prints collected since years.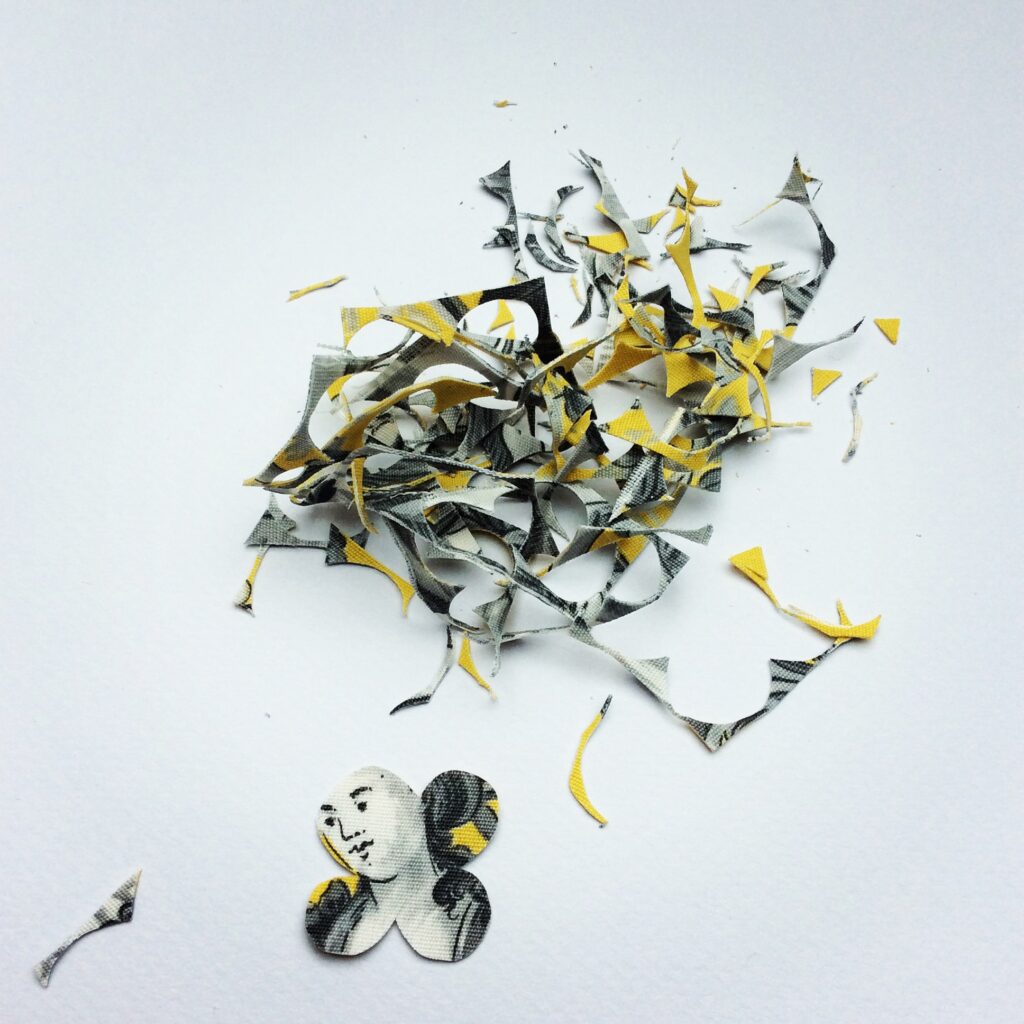 *
Wool
Wool gives a generous and round shape to my Flowers appreciated in winter time.
Worn on a coat, they brighten up winter and support both rain and snow.
*